Kevin Gates will have his parole hearing moved up to Jan. 10 2018 — five months ahead of its previously scheduled date of June 22, 2018.
Gates is currently serving a 30-month sentence at the East Moline Correctional Center in Illinois on a felony gun possession charge.
The Illinois Department of Corrections website made changes to the details of Gates' status on Dec. 26. In addition, his scheduled release was moved up from June 2019 to Jan. 2019. Oddly, it does not have any of Gates' tattoos recorded, leading some to believe he may had them removed during his sentence.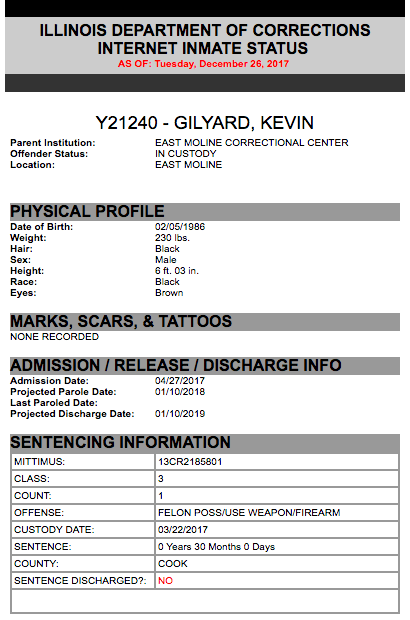 In 2016, Gates was arrested for misdemeanor assault after he kicked a female fan for grabbing at his shorts to pull him into the crowd at a show in Lakeland, Florida. Due to the assault, which Gates claimed was self-defense, the rapper was sentenced to 180 days in a Polk County jail. During his time in jail, however, it was discovered that Gates had an outstanding warrant regarding an illegal gun possession charge, which caused him to be relocated upon his release to the East Moline Correctional Center.
Regarding his assault, Gates told Complex, "Life is about conduct and how we conduct ourselves. But two wrongs never make a right. But I'll say this, I'll use Nicki Minaj again cause people tell me that women love her and people love her: If I was to go front row while she was on stage performing and stick my finger in her p*ssy, and she kicked me in the mouth and knocked one of my gold teeth out, I would be wrong. I would be wrong for that, and that's all I'll say."
It is unknown why the changes were made regarding Gates' parole hearings and discharge dates. This will continue to be a developing story.